Titanium bar with secondary structure
Besides the digital part, the physical check by our denticians has also proved crucial in this case.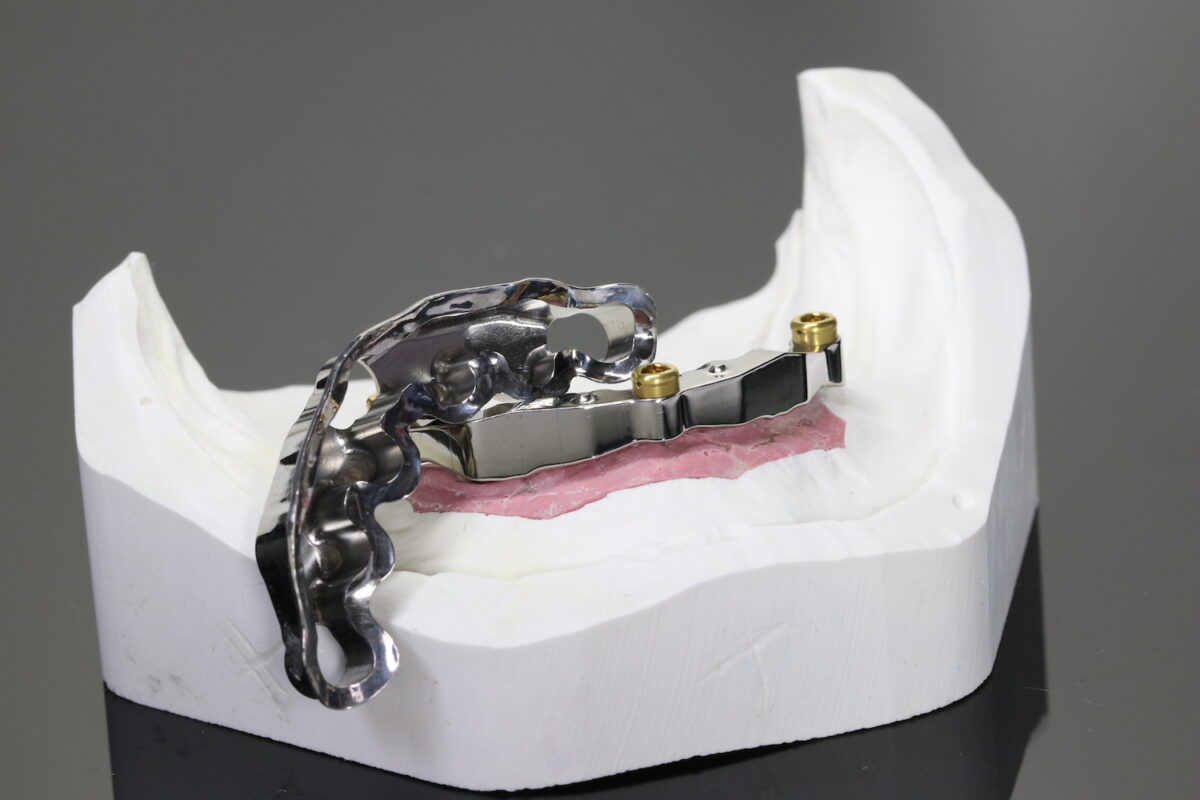 Case overview in short
Locator attachments: Zest Anchors
Scanner: Shining 3D DS-EX MIX
Design of implant position: exocad CAD software
Design of bar and secondary structure: open source CAD/CAM software
Production of titanium bar with secondary structure: Vamac
A titanium bar and its associated superstructure must be perfectly adjusted to each other to provide the necessary long-term stability. Besides the digital part, the physical check by our denticians has also proved crucial in this case.
Working on a plaster model
The dental lab sent us the plaster model for this case. Our denticians set to work by:
making a digital scan of the model;
placing a scan body on all four implants;
digitising the structure in exocad;
exporting the data from exocad and importing the implant positions into our industrial software;
designing the bar with secondary structure, including three Locators for extra support.
Industrial software for smarter milling
The design of this case was based entirely on industrial software. Because this software enables technical designs. The bar was designed freehand by our denticians. This particular case allowed a smarter and high-quality milling process.
Subsequent check
In order to check the presence of sufficient friction between the bar and the secondary structure, our denticians repeatedly carried out physical tests to guarantee the final quality desired by the customer.
Our added value for the customer?
Besides scanning the model, we also took care of digitisation, design and final milling. Followed by an extensive and thorough check of the final product before returning it to the customer.
Based on our total expertise in dental and industrial software, we can adapt our approach to individual case requirements for optimum results.
How can our denticians help you?
Our extensive database combined with our wide range of premium dental components and software allow us to enter any stage of your case. And to provide a fully customised product.
Go to our contact form, tell us more about your case, and we will let you know how our denticians can perfectly complement your work.