Titanium abutment with zirconia crown: a fully digital workflow
The lab has asked our denticians to design and produce a titanium abutment with a zirconia crown.
Case overview in short
3Shape inbox
exocad CAD software
BISS Dental Model-Creator
Elos Accurate analogue
Design and database: Intellident
Production of printed model and zirconia crown: Intellident
Production of titanium abutment: Vamac
The lab has asked our denticians to design and produce a titanium abutment with a zirconia crown. The scans made by the dentist are available, but the lab is unable to import and process them. We have taken over the digital process which resulted in a custom dental restoration.
From the lab…
The dentist sends an intraoral 3D scan to the dental laboratory. His patient needs a titanium abutment at implant level with a full-contour zirconia crown.
… to our denticians…
The dentist used a Straumann scan body for scanning. The lab is unable to process the 3Shape scans and asks Intellident for assistance.
Now our denticians take over. We …
… locate the implant position using the Straumann scan body;
… import the data into exocad and match it with our custom database;
… design the abutment and the crown in-house in exocad;
… make a 3D-printed model with Elos replica and removable soft tissue using our custom Elos database;
… produce the abutment with implant connection (from our own database) and mill the zirconia crown in-house.
… and back to the lab
The lab technicians receive our semi-finished restoration and only need to add the finishing touch.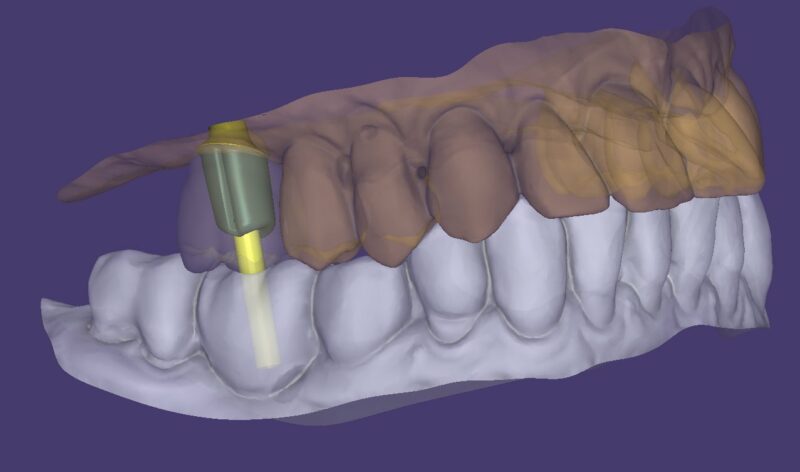 Our added value for the customer?
During this process, we have taken over the complete digital workflow. Our custom databases, built and expanded by us over the years, and our expertise in all available dental software allow us:
to enter into a case at any moment;
to make the right links;
to provide a custom digital and/or finished solution.
Intellident stands for 100% guarantee
We put ourselves entirely at the service of dental technicians and their direct partners in the dental chain. Our denticians fully guarantee the quality of the final result, both as regards the structure and the associated implant.
What can we do for you and your patient? Chat directly with one of our staff members here on our website or tell us all about your case via our contact page or by dialling 011/151.150.